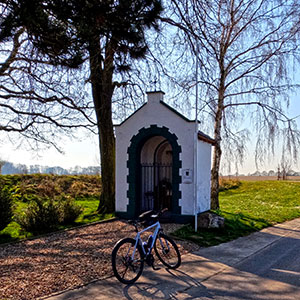 This morning's 38 km cycle ride was a loop into Germany to the north east of Heerlen.
Spring has certainly arrived here in South Limburg and I had warm sunshine all along the way today.
Today's featured image is of the small chapel to the south of the German village of Gillrath, where I stopped for my banana.
March has been a great cycling month so far, with over 500 km cycled.
I have several longer rides planned for the remainder of the month so I may even reach 1000 km which is unprecedented for this time of the year.
I'm certainly feeling the benefit of all the winter indoor spinning sessions that helped me maintain good fitness levels.