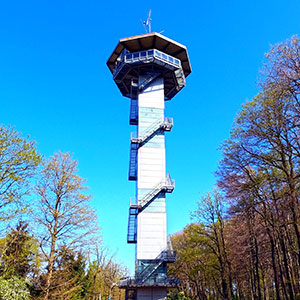 Vaalserberg is the highest point in the Netherlands.
It rises some 322.4 metres (1058 ft) above sea level.
My 40 km cycle ride today included the ascent of Vaalserberg from the Belgian village of Gemmenich.
Whilst I won't claim this was an easy ride, it certainly seemed much easier than the first time I passed this way two years ago.
I'm fairly sure my fitness levels have improved since then.
Also I've fitted the bike with some lower gear ratios to assist with just this kind of climbing.
Today's featured image is of the 50 metre tall 'Boudewijntoren', the observation tower on the Belgian side.
A little further on I came across the 'Wilhamenatoren', a 35 metre observation tower on the Dutch side.
I've been up neither tower, to date, not least because I don't like leaving my bike unattended.
Maybe I'll drive the car up there someday just to experience both towers.