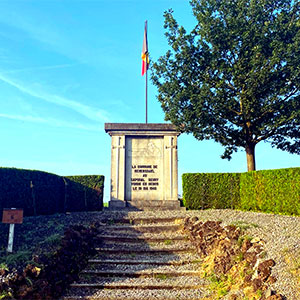 The Saturday cycle ride was a great 70 km circuit passing through three countries.
Starting in the Netherlands, I crossed into Belgium at the 25 km mark, Germany at 46 km and back into the Netherlands about 3 km from home.
The real story of today's ride lies in the featured image.
This is of a prominent war memorial remembering a single person.
Located just outside the Belgian village of Remersdaal, this memorial commemorates Corporal Jean Geury de Horstal.
He was a member of the Belgian Frontier Cyclists Regiment.
Corporal Geury was a machine-gunner, and was killed in action, near this place on 10th May 1940.
The memorial is a large and prominent feature in the Belgian countryside.
It was erected by the municipality of Remersdaal to honour the first Belgian soldier to be killed in action in the second world war.
Today this area is a beautiful, peaceful rural landscape.
Its impossible to imagine the horrors of war that occurred here just over 80 years ago.