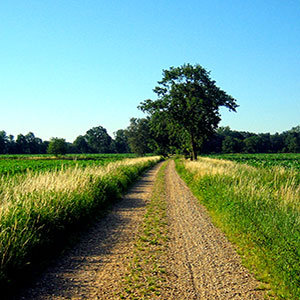 Today I left home at dawn for my 68 km cycle ride down through the nearby Belgian countryside.
I think I'm attracted to this area because it's not quite as flat as Weert and surrounding Limburg, but really I want to explore some really hilly terrain further afield. Hopefully I'll get the chance later this summer.
We are experiencing something of a heatwave in Limburg at the moment with temperatures expected to exceed 32 degrees today.
Even at that early hour the still air was already very warm and I could also feel the radiated heat from the roads, retained from yesterday's high temperatures.
I headed south towards Belgium and it seems quite a few other recreational cyclists had the same idea as I encountered many, even way out in the countryside.
After about an hour I reached the picturesque village of Tongerlo, adjacent to the Zuid-Willemsvaart canal where I paused for my breakfast banana.
There was plenty of 'off-road' cycling today as my planned route followed numerous MTB trails and forest tracks; such great fun!
It's certainly a great time of day to go out cycling but I wouldn't want to be going greater distances in such warm conditions; there is a limit to how much water I can carry (and drink!).