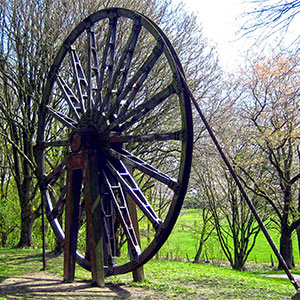 The majority of today's 34 km cycle ride was through dense German woodlands and gravel tracks not so far from home.
Some of these mountain bike trails were extremely demanding, with obstacles deliberately placed at intervals to deter speeding cyclists.
I'm sure there are those with greater skills who would hop over these tree trunks without significant loss of speed.
However, I stopped at every one, dismounted and lifted the bike over the obstacles before continuing on my way.
The halfway point in today's ride was the old German mining town of Wurselen, to the north of Aachen.
There is much evidence of the area's coal mining heritage including the old winding wheel from a closed mine, where I stopped for my snack.
My legs feel as if they have ridden at least twice as far today, no doubt due to the challenging forest trails and the many long, steep hills in this part of the world.