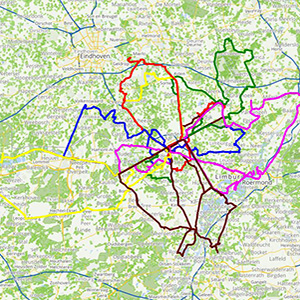 Cycling through the winter can be great fun, provided that you can keep dry & warm. Keeping dry is relatively easy, with the right gear, but keeping warm, especially hands & feet is much harder, even with plenty of thermal layers.
On more than one occasion I returned home with extremely numb toes which took a few days to return to normal.
I've ridden 1064.8 km between 1st November & yesterday, 31st January, in all weathers and through all types of terrain, as part of the Cycling Down Dementia campaign.
This distance was made up of 18 daily rides, the shortest of which was just 23.2 km, back in November, when sub-zero temperatures made it impossible to ride any further.
The longest ride was in January, 105.7 km, due largely to a navigational error adding about 20 km to my planned route. Fortunately the weather was favourable and my improving fitness ensured that such distances are achievable for me now.
So, I've averaged 59.16 km for each of the days ridden or 18.40 km/h, which I'm very pleased with considering about 20% of my cycling has been done on rough forest tracks and unmade canal paths which make rapid progress slow, difficult & often muddy!
There's an account of my 18 winter rides, together with maps of my GPS tracks and photographs which can be found here:
Cycling Down Dementia:Part One
Cycling Down Dementia:Part Two
Returning to cycling nine months ago after a break of about 45 years, I had no idea that my childhood passion for riding a bike would be re-ignited and I certainly had no idea how far or how often I'd be able to cycle.
Clearly the inspiration and motivation to ride my bike for charity is the fact my Dad has Alzheimer's disease and I wanted to try to do something useful.
But my motivation to cycle generally isn't just to go to the supermarket or around the town, but to venture further afield, to explore the Dutch countryside and be out in the fresh air getting a reasonable amount of exercise.
What's next?
Well, the days are getting longer and warmer, there is still much to explore here in Limburg, the Netherlands and beyond.
I have a few plans for longer trips, multi-day rides and other two-wheeled adventures, so watch this space!