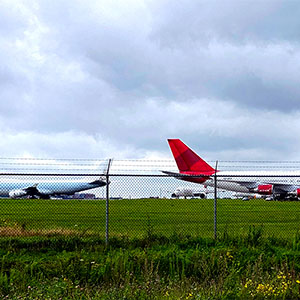 The Saturday cycle ride was a 64 km loop to the west of Heerlen, towards Maastricht.
I cannot remember ever being so wet on a bicycle as I have been today.
The forecast suggested a couple of showers, so I was prepared by wearing my 'shower proof' jacket and leggings.
The big problem was when the rain started, about 40 km into the ride.
I dismissed it as a passing shower and didn't bother putting on my lightweight waterproof over jacket that travels everywhere with me.
It rained so hard, I was soaked through to the skin. Also sweating from the inside out, I was truly saturated.
So when the second rain shower arrived, I saw little point in stopping to put the rain jacket on so I just kept heading for home.
I passed many cyclists and walkers sheltering under trees such was the extent of the downpour.
The country lanes were awash with rainwater and in places a little flooded as well.
Today's featured image was taken from the perimeter cycle track at the Maastricht-Aachen airport, near the village of Ulestraten.
As well as being quite busy with arrivals and departures today, the airfield also seems to be a storage facility for aircraft not currently in use, parked all around the airfield.