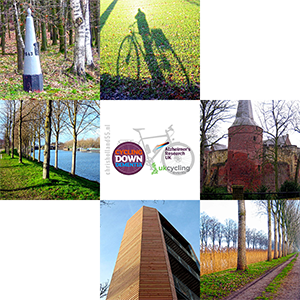 My cycling year has got off to a great start with a total of 404.7 km ridden, over six separate rides during January, including two in excess of 100 km, a particular objective of mine.
Being able to cycle longer distances consistently & more frequently means that I can explore further afield rather than simply cycling close to home all the time.
Having cycled for 22.3 hours this month means my average speed has improved to 18.15 km/h but falls a little short of my 20 km/h objective.
Bearing in mind that a considerable amount of my cycling is done over rough forest tracks and unmade canal paths, as much as 25% some days, it's still a reasonable average speed overall.
The health benefits, so far, have been incredible, almost 40 kg weight loss (I obviously had it to get rid of!) and a significant improvement in my overall physical and mental health.
My participation in the Cycling Down Dementia campaign ended today but there's certainly no shortage of motivation for me to get out on the bike more often and for longer distances.
In 2019, from April, when I started cycling again, to the end of December I cycled a total of 1916.6 km and my objective for 2020 is to cycle 5000 km, and I have plenty of new cycling adventures planned to help me achieve this.