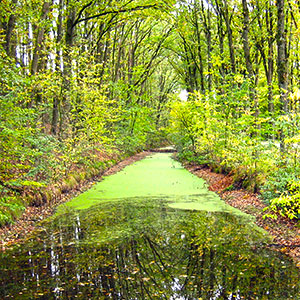 I never tire of the wonderful colours autumn brings so on today's post-rugby ride, (Bad luck Wales….!), I set out to discover some new forest tracks not so far from home.
Heading south-west from Weert it wasn't long before I passed through the village of Altweerterheide, somewhere I've been a fair few times before, on my way to somewhere else.
The flat terrain & lack of headwind aided good progress on this sunny, warm day.
About 3 km further on I came across some raised ground; you might actually think it's a hill, something of a rare sight in this part of the Netherlands.
However it looks more man-made than naturally occurring, and it's surrounded by two metre fences and locked gates.
The signs say 'Stortplaats' (dump) & the maps say Hazenheuvel, probably because one side is on Hazenweg, the track I'm cycling along towards the first woodlands of the day.
A little post-ride research reveals that this 'hill' is 750 metres long, 300 metres wide and 25 metres high. It is indeed man-made, as for many years it was a landfill refuse 'dump' for the municipality of Weert & the surrounding area.
Apparently it was deemed 'full' about 15 years ago, has been well landscaped and is certainly not a blight on the surrounding countryside.
Why it's closed to the public is a mystery to me, but as luck would have it there is a cyclo-cross event there in two weeks time and part of the course is over Hazenheuvel.  Spectators will be allowed supervised access so there's a good chance I'll be there.
A comprehensive history of the area can be found here.
Moving on, I cycle through woodlands that I've been to before. Riding in the opposite direction the whole route looks completely different.
Heading homewards my sense of direction deserted me and I took a right turn instead of left which led me through previously undiscovered woodlands where the track was so narrow, bumpy & strewn with fallen leaves I was unsure if there was actually a cycle path there at all. I certainly achieved my objective of finding new forest tracks.
A great ride out on the bike again today, almost 30 km at a little over 19 km/h average speed.