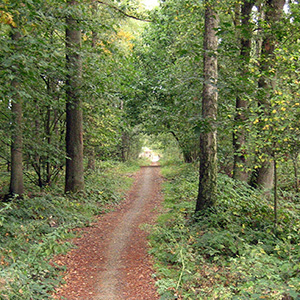 Today's short cycle ride took me through local woodlands once again just as the trees are starting to change colour & lose their leaves.
It was certainly much cooler and less sunny out & about today, very autumnal.
I like the peace & quiet cycling through these woods.
In another two or three weeks the glorious autumn colours will fully emerge so I'm sure to pass this way again to see how the colours have changed.
On the way back home I found another cycle track around the 'Blue' lake, which wasn't looking so blue under overcast skies.
Next came the Iron Man lake on the outskirts of Weert where various Iron Man challenges are held every year. From here I made my way back along the canal bank once more.
The observant ones amongst you will have noticed a nice interactive map below the last couple of posts, showing my route cycled, time, elevation & distance, provided by 'Ride with GPS'.
This is an all-in-one route planning, navigating & tracking system utilising the GPS provided by a mobile phone. Works really well for me & enables me to explore the less-ridden cycle tracks without stopping to read a map every five minutes.
Another new addition to my posts are 'like & dislike' buttons, right at the bottom, which can also be used to share posts to your favourite social media sites if you wish.