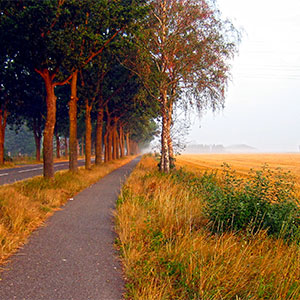 I had another early morning start today for my 60 km cycle ride, much of which was along local canal banks.
Leaving home just before 0700 I was surrounded by a light mist that became much more dense as I got out into the countryside on the road to Budel.
The sun was working hard to make an appearance and provided some interesting light for photographs.
Even at this time of the day it was already quite warm and extremely humid so just pedalling at my normal cruising pace I was quickly soaked in sweat.
After about 19 km I reached another canal, Bocholt-Herentals, which merges with Zuid-Willemsvaart a few km later near the Belgian hamlet of Veldhoven.
Here I crossed the canal at the sluis (lock) and continued along the misty canal banks until Beek (Belgium) where I turned northwards for the ride back to Weert in time for breakfast!