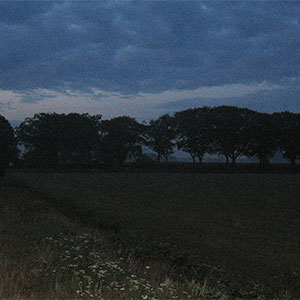 Over half of today's 74 km cycle ride was ridden in the dark.
For the past 8 days the Netherlands have enjoyed/endured/suffered record breaking high temperatures with daily highs between 34-38 degrees.
This has made it especially uncomfortable to get out on the bike for any length of time during the day so I bought some lights to enable me to cycle at night.
This morning I left Weert at 0400 and headed north and east towards Asten in North Brabant.
For the first 12 km or so I was accompanied by street lighting before heading out into the pitch black countryside around De Groote Peel.
Away in the distance, in the direction of Eindhoven, there was a spectacular electric storm illuminating the night sky.
My lights are very simple 'be seen' lights rather than 'to see by' lights so I had to be very careful as I progressed through the darkness, with visibility further compromised by low lying mist patches for a few kilometres. If riding during hours of darkness became a regular occurrence I would probably get a more powerful front light.
Having decided to ride at night to escape the daytime temperatures I was surprised at how very warm and humid it was, as a result of which I drank even more water than usual.
The skies began to brighten as I negotiated the narrow cycle track through the woodlands of Dennendijkse Bossen to the south-east of Asten, although I wasn't really able to successfully capture this in my photographs today.
By the time I returned home just after 1000, it was already over 28 degrees but I'm grateful that I got out on the bike again today.