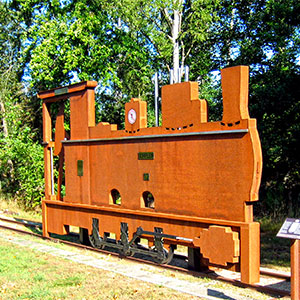 This morning's 26 km cycle ride was to the cycle clothing store in Budel, North Brabant.
After spending half an hour browsing and trying on several waterproof cycling jackets, I acquired a rather nifty translucent type, which I'm sure will come in handy once summer is over.
I took the somewhat indirect route to Budel via the village of Budel-Dorplein and returned alongside Zuid-Willemsvaart to Weert.
Budel-Dorplein was originally established to accommodate workers at the massive zinc factory, which is still one of the largest employers in the area.
Here I came across a life sized representation of a steam locomotive cut from 100 mm thick steel and allowed to rust naturally. It's on the site of the old railway tracks used by the original zinc factory.