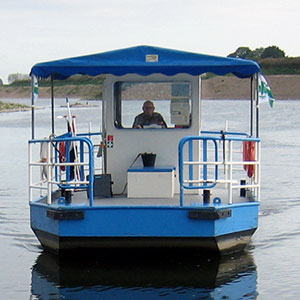 Grevenbicht, in the Netherlands, is the destination of the 12 person ferry across the river Maas from Rotem in Beligium and was around halfway around my 67.6 km route today.
These small ferries up & down the Maas stop their 'on demand' daily service at the end of September but continue until April at weekends only.
I thought the Rotem-Grevenbicht crossing wasn't working today as the boat was tied up on the opposite bank with no sign of the operator.
Then I notice a nice big bell nearby, presumably to attract his attention, so I gave it a couple of rings.
He appeared from his little control room mug of something in his hand & in no hurry to cast off to come and collect me, the only person/cyclist waiting to cross.
I gave it a few minutes (seemed like 15 but more likely 5!) of inactivity before I rang the bell again.
This seemed to have the desired effect & before long I was safely deposited on the opposite shore.
A great ride out today, hampered a little by headwinds seemingly changing direction as often as I did. I think we've seen the last of the great summer weather here in Limburg, with wind & rain forecast over the next few days. I'm sure I'll still get out & about, as long as we don't have ice & snow on the roads!