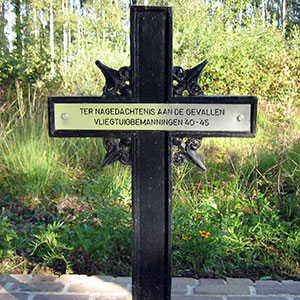 Took a nice 27.6 km ride out this morning to Colusdijk near Nederweert.
The long, narrow paved lane became a rough track for about 2 km before it stopped completely at the edge of the forest.
There I found another WW2 memorial, apparently recently restored.
The cast iron cross commemorates all the fallen aircrews whose aircraft crashed in the locality from 1940 to 1945.
In front of it is a polished granite tablet etched with the details of an RAF Halifax bomber that crashed nearby on the night of 3rd-4th April, 1943.
All seven aircrew perished in the crash, six of whom are buried at the CWGC cemetery in Eindhoven and the 7th crewman is buried at the Canadian Air Force cemetery at Groesbeek.
It's amazing just how many of these memorials are scattered throughout this part of the Netherlands, most of which are respectfully maintained & cared for either by local WW2 history organisations or interested individuals with no personal connection with those airmen commemorated, just an interest in preserving part of this region's history.