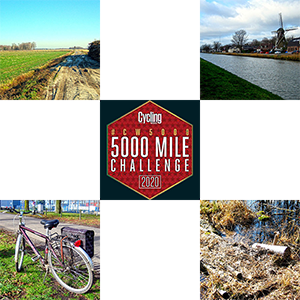 This month's cycling activities have been severely limited, mainly because of the extreme weather conditions that have swept across large areas of Europe recently including two major storms, continual heavy rainfall, high winds and this past week even some snow.
There have also been a few pleasant days with above normal temperatures, enough to make us think spring was arriving early.
However, as March approaches it seems we are back to 'seasonal norms' as far as the weather is concerned.
So, I did manage to get out on the cycle on four occasions this month, totalling 133.7 km, at an improving average speed of 18.54 km/h.
This in itself is surprising given the amount of low speed 'off-roading' I've managed to do.
I have many new & interesting rides planned to help me explore the Netherlands/Belgium/Germany a little further from home and I'm hoping I'll get much more cycling done in March.
There is a compilation of my February rides, including route maps here.