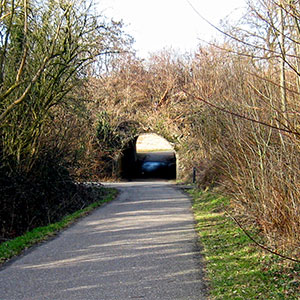 Today's 15 km cycle ride was, unusually, totally unplanned and spontaneous.
This afternoon I was watching cycle racing online, from somewhere sunny in the south of France.
At the same time warm sunshine, here in Heerlen, was making it hard to see the screen which made me realise that I should be out cycling rather than watching it elsewhere.
Minus my thermal under shirt I went out in several layers my winter cycling gear, to be met by a real blast of warm air, just as you do when getting off an aircraft in a hot country.
It was 18 degrees here this afternoon and I realised that I was a little overdressed but decided to continue anyway.
Although I had no planned route I tracked my ride with my Ride with GPS app and just followed the front wheel for a while.
Taking familiar roads for a few kilometres, I turned off into a large industrial park which turned out to be a dead end with no way through, even for cyclists.
Returning to familiar roads I headed in the opposite direction until I turned off again on deserted cycle paths.
Heerlen has many disused railway tracks, a remnant of the long closed coal mining industry in this area.
Much of the track and infrastructure has been removed and that which remains is used as cycle paths, bridleways and pedestrian walks.
One such remnant is a much overgrown railway underpass along Hamweg, on the eastern side of Heerlen.
From here, I made my way home, overheating from being overdressed, but still a great 50 minutes out on the bike.