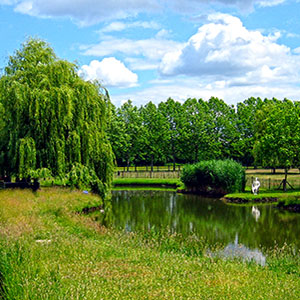 Today's unplanned 40 km cycle ride had a little bit of everything:
Extensive forest tracks, picturesque scenery, the 'Blue Lake' looking quite blue, a little bit of speed and believe it or not a 'selfie', something of a rarity for me!
The photo's tell most of the story really and I was particularly impressed with the nicely laid out green space adjacent to the Zuid Willemsvaart canal as I approached Lozen (Belgium), the subject of the feature image in this post.
I'm not sure if this is a public space or a private garden as there was no obvious access or signs.
Google wasn't much help either but I was intrigued by the white statue of a person sitting and admiring the view.
The 'speed' element of the trip was my best recorded average of 20.9 km/h, not bad over 40 km.
Interestingly there are no longer any controls or barriers entering/leaving Belgium, ahead of the official re-opening of borders on 15th June.