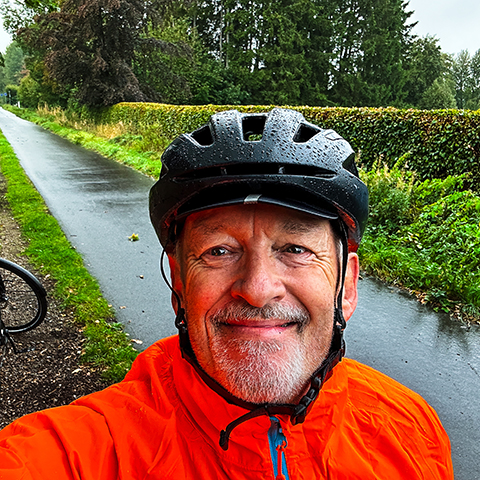 Today's 137 km cycle ride was one with a difference.
Normally I cycle alone, preferring to set my own schedule, ride at my own pace and stop whenever I feel like it.
I refer you to another post for some context.
Ernesto, his friend David, and I had arranged to meet in Aachen, Germany close to the well known cycle route, the Vennbahnweg.
They were embarking on a three day cycling/camping weekend and I joined them for the 52 km ride as far as Monschau, Germany where we stopped for lunch.
I have to say it was great fun having company on a cycle ride and as they are both from Mexico (David lives in Belgium), it was nice to meet people from so far away, with cycling long distances in common.
After lunch Ernesto presented me with my prize for riding further than him in his 'Virtual Great Divide' challenge earlier in the year.
The small ceramic cup is used in Mexico to drink Tequila.
As Tequila and I are not the best of friends, I used it this evening to drink some Asbach German brandy.
After lunch we cycled back out of the valley from Monschau to the Vennbahnweg where we went our separate ways.
They continued south towards their overnight camp site and I returned north to Heerlen.
I hadn't travelled more than 10 km when the rain started, light at first becoming absolutely torrential as I continued on my way.
Eventually I realised this was much more than a passing shower so I stopped at a shelter and removed my waterlogged cycling jacket, replacing it with my newly acquired cycling rain jacket which kept me relatively dry all the way back home.
Passing through Aachen, only a few km from home, my GPS stopped working properly, maybe due to a combination of atrocious weather and tall buildings shielding the signal.
I have to admit that I literally rode around the streets of central Aachen in circles until I came across familiar roads and the way home.
This added about 8 km to my planned route!
Today's distance supersedes last Monday's 128 km total as my longest one day cycle ride since August 2020.