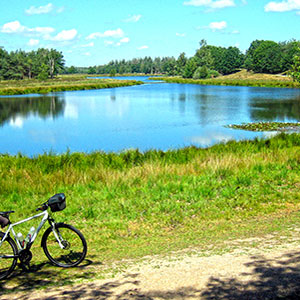 We had monumental thunder storms for a few hours overnight so it was a bit of a surprise to wake up to warm sunshine and cloudless blue skies this morning. Perfect cycling weather!
Today's 60 km ride took me through several nature reserves, some of which I've not visited before.
Firstly I rode the fietspad (cycle path) along the western edge of 'De Groote Peel' before arriving a few km later at a very picturesque lake, seemingly popular with early morning fishermen, 'De Witte Bergen'.
After by-passing Someren I came to a beautifully laid out golf course, 'De Swinkelsche', cycling along the fietspad straight through the middle.
This led me to Keelven, a stunning open lake with woodlands surrounding it. I measured the cycle track around it's perimeter at 2.5 km, and many photo's were taken. This lake is part of the extensive 'Somerensche Heide' nature reserve and today it was simply breathtaking.
Finally, about 15 km from home I cycled through 'Vroolijke Jager', part of the Strabrectse Heide nature reserve, where I paused for my second banana.
All in all, another great cycle ride, over half of which was on unpaved fietspad.
Incidentally, today is my 100th recreational cycle ride since my cycling renaissance some 14 months and 4793 km ago….and probably as many photographs!