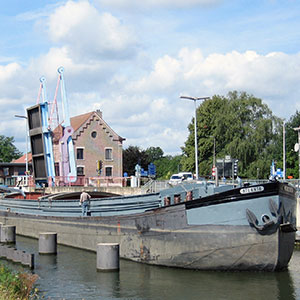 I didn't really have a planned route this morning, nor did I know how far I felt like cycling today.
This often happens, so once outside I determined from which direction the fairly strong breeze was coming & thought that I'd face that way to start with, while my legs were fresh.
The terrain is very flat & open around here so finding shelter from a headwind is not always possible,
Moving on, I got a bit confused in Budel but didn't bother stopping to look at the map, the result of which was a rather indirect route to Lozen sluis just over the border in Belgium.
After stopping for refreshments by the sluis (lock) I headed back to Weert, along the perfectly flat, straight canal track with the breeze firmly in my back.
It was just like having a motor….my sit-up-and-beg riding position is obviously a hindrance when struggling into the wind, but with the wind behind me now, I used a much bigger gear & covered the distance (about 14 km) in no time at all.
I continue to be fascinated by the Dutch canal network & all the barges, bridges etc, but on my next ride I am determined to find something else to take photo's of.
38.8 km covered today in warm, sunny & fairly windy conditions.