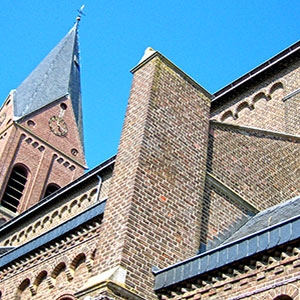 Today's 75.8 km cycle ride took me to the southeast of Weert as far as the river Maas at Wessem before heading northeast along the course of the river and the wide canal that runs parallel to it.
A prominent landmark between Maasbracht & Roermond is the large Claus gas fuelled power station, that can be seen from over 20 km away and which is currently dormant.
Apparently it is used to produce electricity at times of exceptional demand & is therefore maintained in a state of readiness to be activated at short notice.
Elevated above the surrounding countryside is the village of Linne.
Here, I came across the local Catholic church which contains Commonwealth War Graves for two Canadian airmen, shot down nearby in a Lancaster bomber in 1944. Also here is a memorial to 1st Commando Brigade who liberated Linne in January & February 1945.
Moving on from Linne, I continued as far as Buggenum before taking a fairly indirect route back through the Loudal area to Weert.
There are over 50 photographs of today's cycle ride and of particular note is the first image, taken at the SJG hospital, next to our apartment block.
The banner hanging from the first floor intensive care unit, where many corona virus patients are currently being treated, reads 'With each other, for each other, Weert thanks her health carers'.
Certainly a sign of the times, with health professionals the world over working tirelessly to combat the virus and treat those affected by it.
Thank you all so very much….