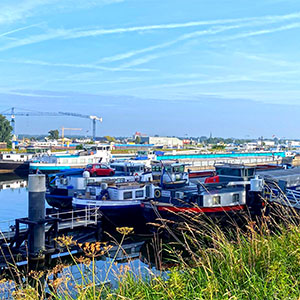 The Tuesday cycle ride was over a distance of 103 km.
This is significant because it's by far the furthest I've cycled this year.
The previous longest ride was some 20 km less.
I'm also very satisfied with my overall average speed of 20 km/h, especially over such a distance.
This, again, is much more than my previous best this year of 18.4 km/h.
I left home a little before 07:00, made really good progress and cycled 30 km in the first 90 minutes.
Today's route was to the north of Heerlen in the direction of Maasbracht, a thriving inland port on the river Maas.
This is also the location of today's featured image.
I'm pleased with the level of cycling fitness I've achieved this year but 100 km plus rides will probably be a rare occurrence.