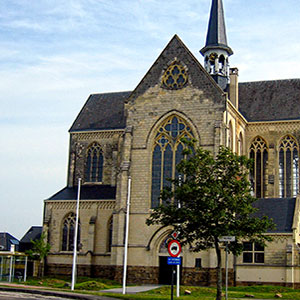 Today's 87 km cycle ride took me back to the rolling hills of Limburg, Belgium close to where I was last weekend.
The roads & cycle tracks around Weert are becoming just a little too familiar so as my fitness levels increase and the weather improves I'm aiming to increase the radius from home within which I cycle.
The current restrictions due to the corona virus pandemic are having a big effect on the free movement of people
Recreational cycling for essential exercise remains one of the few outdoor activities allowed at the moment.
Everywhere is so quiet, even for a Sunday and the great cycle tracks make for good progress along canal banks & through forests as far as Zutendaal, near Genk.
At my turning point there is the magnificent Sint-Jozefkirk which is, in fact, much newer than it first appears, having been built from 1935 onwards and subject to a number of restorations since then as a result of it's somewhat fragile construction.
There is also much evidence in this area of allied forces having passed this way during the liberation of Europe in 1944, including a very well preserved US tank on the road leading into Zutendaal.