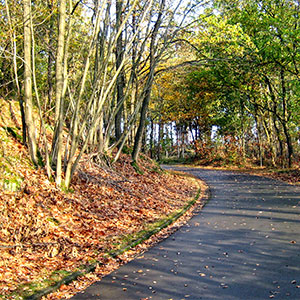 I left home before 0830 this morning in much milder conditions than yesterday for a great 95 km cycle ride south of Weert.
Making good time I crossed the river Maas at Wessem and then followed it's course via Maasbracht and Roosteren before crossing back over the river into Belgium at Masseik.
With Masseik behind me I soon found the cycle path through the forests around Bergerven which were rich with autumnal colours.
The featured image today shows part of the steepest incline of the day, on the cycle path leading to the Belgian hamlet of Opoeteren.
At it's steepest the pathway is a 9.2% incline and although it was only 500 metres long, it felt so much longer!
However, I've passed this way before so I knew what to expect. I simply selected my lowest gear and kept the wheels moving steadily upwards, pushing a bike uphill is not an option for me.
Naturally, what goes up must come down so the various ascents were immediately followed by thrilling descents, made more interesting by wet leaves everywhere.
Moving on, I found the canal at Bree and used the very picturesque canal paths all the way home.