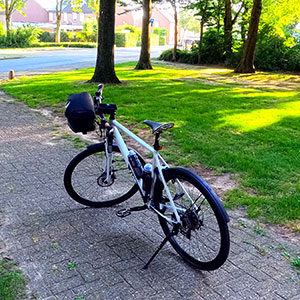 Today's 5.3 km cycle ride is probably the shortest I've ever recorded.
It's the first time I've ridden since June 19th and I had a nice 55 km route planned so I was keen to make the most of the warm, dry morning.
Of course, things don't always go as planned and after less than 3 km, I decided to turn around and head back home.
For me recreational cycling is as much about mental fitness as physical endeavour.
With over three weeks away from cycling I've simply got out of the habits and routines required for an enjoyable cycle ride.
I'm confident that normal service will resume shortly!
The only picture is from outside the apartment as I prepare to set off.