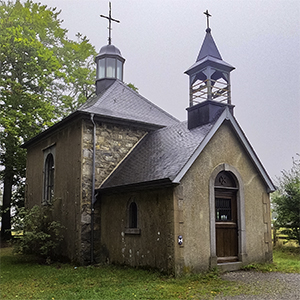 Cycling for me is mostly about the adventure, discovering new places and pushing myself both physically and mentally.
I have just returned from my latest adventure, 170 km cycled over two days through the most demanding terrain and extreme weather conditions.
My main objective was to cycle to Signal de Botrange, which is 694 metres (2277 feet) above sea level.
This is the highest point in Belgium.
I also cycled past the previous highest point, the chapel at Baraque Michel, some 674 metres (2211 feet) above sea level.
Boundary changes in 1919 changed the order of highest points in the high fens of Wallonia, Belgium.
Today's featured image is of the chapel at Baraque Michel.
I left home in Heerlen at 05:30 yesterday morning in darkness and thick fog.
My first objective was Aachen, Germany and the beginning of the Vennbahn cycle route.
This would be my main route southwards for around 70 km before a short deviation to my planned overnight stop at Robertville in Belgium.
My total ride today was 90 km, in mostly dry weather with occasional showers.
Of note is the fact that the 70 km ride on the Vennbahn was almost all uphill from Aachen onwards.
Once settled into my overnight accommodation I enjoyed a few beers and a great meal at a nearby restaurant before heading for bed.

Friday 16th September
This morning I was on the road again by 07:30.
The weather forecast was not good, with rain predicted for much of my route home.
I expected this, of course, before I left home yesterday so was well prepared with appropriate waterproofing.
The day got off to an unexpected start when just 4km into the ride I found my desired route was closed.
This is the only road to Signal de Botrange and was under reconstruction for a considerable distance.
Therefore I had to deviate onto a rough gravel forest track for about 3 km in torrential rain, all uphill.
I stopped briefly at Signal de Botrange and Baraque Michel for photographs before the long descent down to somewhat warmer conditions.
Througout the day I experienced frequent torrential downpours, some so extreme that I needed to shelter under trees for a while.
Progress was slow and it took me around 7 hours to get home.
Despite my waterproofs rain still managed to penetrate my inner layers and an extended hot shower was most welcome as soon as I arrived home.
Today I cycled 80 km.
Even with the most extreme conditions experienced today this was one of the most satisfying cycle rides I have ever done.
My legs ache a little but all the reasons I like to cycle so much have been confirmed over the past two days.
Where next?