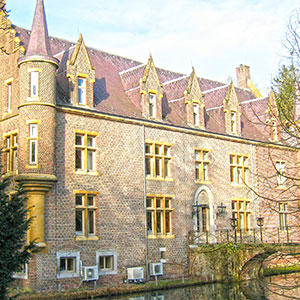 Today I had a nice 32 km cycle ride to the east of Heerlen.
The light snow that fell at the weekend has disappeared and temperatures are increasing nicely.
My route was mainly on deserted country lanes, which I much prefer, containing many hills to severely test my legs and lungs.
This was only my second ride this year so I need to gradually build up my fitness levels again. So the steep ascents around here are ideal for that.
To illustrate the contrast between last's years cycling activities and this year's so far, Ride with GPS keeps a record of elevation gain for each ride.
In 2020 I cycled 7098 km and gained a total elevation of 40533 metres. This is, therefore, an average elevation gain of 5.7 metres per km ridden.
So far in 2021 I've cycled 46 km and gained 514 metres of elevation. This is an average of 11.7 metres of elevation gained for every km ridden.
On the face of it, I'm cycling uphill roughly twice as much this year than I was last year, but with such a short distance ridden so far this year it's not really a fair comparison. It will be interesting to compare notes again when I've ridden 2-3000 km in this area.
Back to today's ride, at around the 23 km mark I came across Kasteel Ter Worm. This impressive castle dates back as far as the 14th century and is now a luxury hotel.
The gardens, moat and orangerie are particularly impressive and may be worth a return visit once it's all open again.
The remaining few kilometres of my ride today were anything but flat, but great fun all the same.
Remembering my uncle, David Chorley, who passed away at the weekend.
RIP David, you will be greatly missed.