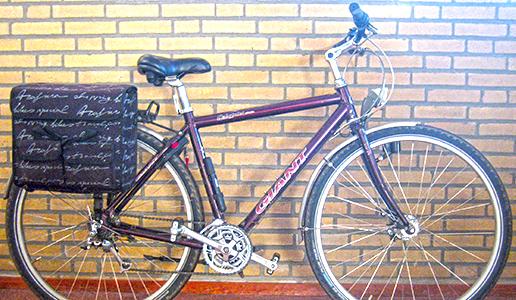 When I acquired my second-hand 'Giant' bicycle in April this year, I had no idea that it would reignite my childhood passion for cycling & carry me, to date, along 1837 km of Dutch/Belgian highways, byways, forest tracks and canal paths.
Originally I simply wanted a reliable city bike for local essential journeys as I don't have a car, but very quickly it became the means by which I could explore my surroundings beyond the city limits.
The more I cycled, the more weight I lost and the easier the km became, although it quickly became obvious that I hadn't purchased the right kind of bike for the cycling I wanted to do. Maybe some sort of 'all-terrain' model would be more suitable.
There are no serious hills around here, just ramps up to bridges over motorways, canals & railway lines so the range of 21 gears is somewhat excessive: I only ever use four of them!
The hub brakes, designed for stopping from slow urban speeds are next to useless at speeds over 25 km/h. Having said that I only ever use the brakes sparingly, I've expended a lot of energy getting up to cruising speed so why waste it by braking?
The long straight roads, inspired by Napoleon, and gentle curves make this style of cycling so easy.
The 500 mm frame is a little small for me, so even with the saddle & handlebars adjusted upwards it feels a little cramped, but it was all I could find locally in April apart from some really large framed bikes….there are a lot of very tall Dutchmen it seems.
I've fitted flatter handlebars, a new saddle, new tyres and a new chain as well as a single pannier to keep waterproofs & bananas in for my extended day trips. The dynamo lighting hasn't been used often, but I know it works should I ever feel the need for some nocturnal cycling.
So, all in all, I'm very happy with 'The Bike' at the moment & look forwards to many more kilometres exploring Limburg & beyond.