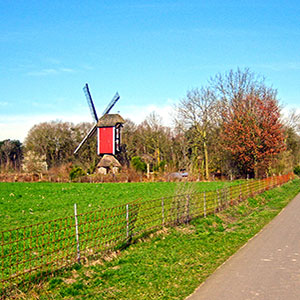 What a great day to go cycling!
Warm early morning sunshine, cloudless blue skies and a forecast temperature of 18 degrees was more than enough to get me out on the bike nice and early this morning.
I wanted to further explore an area of woodland & peat bogs, Leenderbos, just to the south of Valkenswaard in North Brabant.
Good time was made to the first of the numbered cycle route marker posts that help us riders explore the many kilometres of cycle track through interesting & peaceful  landscapes.
Right on the border between the Netherlands & Belgium, north of Hamont-Achel I came across the Saint Benedictus Abbey, home to a commune of  Trappist monks who also happen to manufacture 'Achel Trappist' beers.
On such a nice day, and with many people currently 'working from home' because of the Coronavirus, there were many cyclists and walkers sharing the many routes in this area.
I took my morning banana break right in the middle of Leenderbos before heading homewards via an excursion into Belgium and the now familiar canal bank cycle tracks.
Today's ride was 63.1 km.