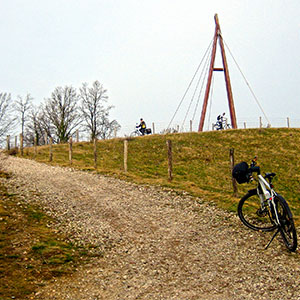 My first cycle ride of the week was a 38 km loop taking in the Dutch towns of Lemiers and Vaals.
I also skirted around the edge of the German city of Aachen.
The whole ride was on now familiar roads and taken in the opposite direction it's a completely different experience.
I paused for refreshments opposite the impressive church at Lemiers before continuing uphill to Vaals.
Approaching Gracht, about 5 km from home, there were posted diversions because the road ahead was closed.
A large section of the main road is missing for a new roundabout to be constructed.
This means cycles have to take a 2 km detour via a nice wooden bridge over the by-pass.
The track climbing up to the bridge is not only very steep but surfaced with large gauge crushed stone rather than smaller sized gravel.
This made for a challenging ascent and descent as my (all terrain) tyres struggled for grip but I was determined to ride all the way, especially as others had already done so in front of me.