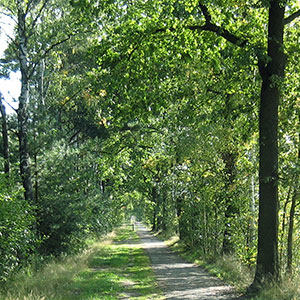 I've not been able to get out cycling for eight days, so this morning I was really looking forwards to getting out & about in the sunshine for a few hours.
With no pre-planned route I headed south-west along the canal bank.
After about 10 km I came across a cycle path which I had passed by a few times before so this time I turned left to explore this somewhat narrow but paved cycle path.
Almost immediately I found myself riding through quite dense forest, stopping for a few photo's I was struck by just how quiet it was.
Away from the hum of the city & traffic noise from the motorway, I experienced absolute silence. Only birdsong and the soft sound of leaves falling broke the silence. What a lovely experience so close to home.
Another cyclist came along, there was a man with his dog and a few walkers in the depths of the woodland.
The narrow cycle track through the forest continued for about 8 km before I emerged onto a minor road, seemingly in the middle of nowhere.
Left or right, I've no idea which way to turn. Left would take me directly back to Weert, which I wasn't ready to do so I turned right.
Five minutes later I came to the Belgian border, which confirmed that I'd taken the wrong turn. At the side of the road was cast iron obelisk marking the border between Belgium & the Netherlands. The date '1843' signifies the Treaty of Maastricht , which finally defined the border after many years of territorial disputes between the two countries.
I returned to the junction where I'd gone wrong and took a nearby turn heading roughly in the direction I wanted to go.
A very enjoyable 45.4 km cycle ride today.
By the way, the canal water really is as green as it appears in the last two images in the album:just algae apparently.