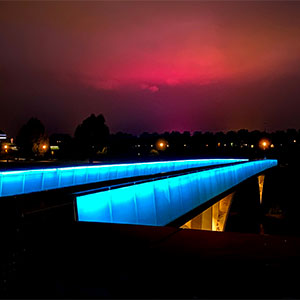 Sunday's 77 km cycle ride was not at all what I had planned it to be.
I was awoken at the B&B in Venlo at around 05:00 by the most torrential rain outside accompanied by extremely high winds.
Continuing my ride along the Maasroute meant cycling another 135 km in extreme weather conditions.
This I considered a potential risk to my safety.
Fortunately I have full waterproof clothing so I can stay relatively warm and dry.
However, force 4-5 headwinds are extremely difficult to deal with on a cycle.
Considering the options available to me on a Sunday morning, I decided to abandon my original plan to continue the 135 km along the Maasroute.
Instead I took the most direct route home which ended up being 77 km.
Of course, this didn't alter the prevailing weather conditions in any way, but minimised the risk as much as possible.
I left at  around 07:00 and made my way out of Venlo in heavy rain and high winds.
Fallen trees and branches along the way gave an indication of the extreme weather conditions.
Progress was very slow, gusts of wind blowing me off course many times but I was on my way, no turning back now.
It took me almost six hours to cycle home to Heerlen, but I arrived safely in one piece.
This was definitely not the weekend I planned, with the route shortened by 60 km.
However, I still enjoyed the ride and the challenges it presented.
There are only a few pictures today, none of which truly convey the horrendous weather conditions I encountered along the way.
Today's featured image is of the illuminated cycle bridge on the way out of Venlo.