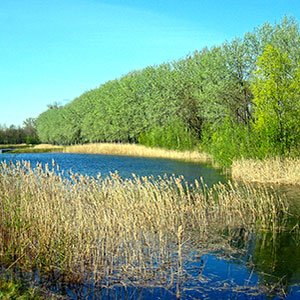 There has been a lot of helicopter activity recently, at St. Jans Gasthuis, the medium sized regional hospital right next to our apartment block.
They are  using a dedicated Trauma-Heli to transfer Covid19 patients between hospitals both here in the Netherlands & also neighbouring Germany & Belgium.
By moving patients from areas with many patients to quieter areas, no hospital gets full to the point that they cannot cope.
I heard the heli land not so long before I set off on my cycle ride today and later when I cycled past the hospital car park, it was taking to the skies once more. Of course, there are photos.
Today's 62.5 km cycle ride took me in a loop to the north & west of Weert, with a significant proportion of my planned route being on cycle tracks, forest paths & small roads that I've never visited before.
Once again we have nice warm sunshine in this part of the world, ideal for cycling and also for taking nicely lit photographs of some really stunning scenery, of which there was quite a lot today. I think today's photo gallery will give a fair idea of how nice it's been today.
Just before the small town of Budel there is a large stone monument alongside Geuzendijk which has always fascinated me.
So, today I stopped, took a photo & did some research. It is actually a marker for the border of the municipalities of Weert & Budel and between the provinces of Limburg and North Brabant. It's impressive at about 3 metres high and each of the four faces are carved with images depicting local history.
The ride continues through the woodlands of Leenderbos for quite a distance before I reach the outskirts of Leende and the road back home, alongside the A2 motorway.
The highlight of the day, for me, was the beautiful lake to the southeast of Valkenswaard, called Hengelvijvers. It's in a stunning setting, surrounded by trees, reeds & marshlands, all home to various species of wildfowl.