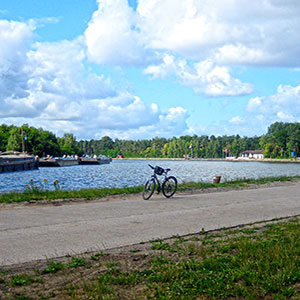 Today's 101 km cycle ride had a distinctly nautical flavour as the majority of the route was alongside the various Dutch and Belgian canals to the west of Weert.
My planned route was 100% alongside the canals but several sections between Overpelt and Lommel (Belgium), on the south side of the canal are currently closed for reconstruction forcing me to follow posted diversions for a few kilometres.
This canal side route is being transformed from uneven gravel cycle/pedestrian paths to beautifully smooth red brick paving as seen in one of my photographs of a completed section.
I think this work was long overdue as surfacing roots from the nearby avenues of trees made cycling along here previously quite a painful affair as well as being quite dangerous. I always felt in jeopardy of falling in the canal after hitting one of the many sharp ridges.
Just like the Netherlands, Belgium continues to invest heavily in numerous infrastructure projects like this, many with a particular emphasis on cycle and pedestrian shared spaces. This is great to see and very rewarding to experience. I imagine there are many other places that would benefit greatly from these types of initiatives.
The canals themselves were very busy today with both commercial and recreational vessels as is often the case on Monday's.
The turning point for my ride today was Kanaalmeer, one of a series of large man-made lakes next to two adjoining canals, formed in the late 19th century when white sand was excavated.
My return journey, with the freshening wind behind me, was along the very smooth northern cycle track alongside the same canal as the outbound leg but completed much quicker than earlier in the day.