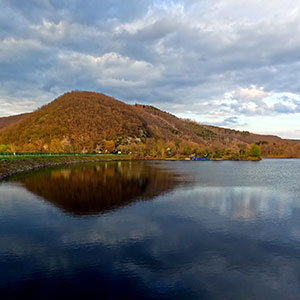 Today I completed a truly great two day, 140 km cycle ride to the Eifel area of Germany.
Without doubt this has been the hardest cycle ride I have ever done.
My reward was stunning scenery, challenging terrain and a very nice overnight stop at Rurberg on the edge of the River Rur.
Having planned the route I expected many more hills than I'm used to in South Limburg.
It seems that the steepest ascents I had to negotiate were in excess of 18%.
On a few occasions I needed to get off the bike and walk a little.
The steepest descents were in excess of -15% so my bike's excellent disc brakes were tested to the full.
Historically I average 6 metres of gained elevation per kilometre.
On this ride the average elevation gained was 16 metres per kilometre, almost three times as 'hilly' than I'm used to.
The elevation profile below tells it's own story.
Having passed through the Eifel National Park many times during my motorcycling years, I knew it to be an enormous area of outstanding natural beauty.
But the truly magical, tranquil  areas are those closed to motor vehicles, accessible only on foot or by cycle.
I arrived at my overnight stop in Rurberg mid-afternoon having already taken many photographs en-route.
Even though I booked a single room I was surprised to have a spacious double room with balcony overlooking the river.
After a couple of beers and a great dinner I had a walk around the locality, camera in hand….just like a tourist!
The featured image was taken just before sunset from the Paulushofdamm looking north.
Yesterday's photographs can be found here.
After a good breakfast I was on the road again before 09:00.
Within a few minutes I was once again faced with the most challenging ascents.
I was forced to walk much of the way up out of the river valley to find the road back home.
However this gave me the opportunity for more early morning photographs.
As a matter of preference I always try to create round-trip routes for my cycle rides.
By this I mean returning via a different route to the outbound route.
Sometimes this is not completely possible due to the terrain and available roads and tracks.
Therefore a little of todays route shared sections of my outbound route.
I really enjoyed this trip, particularly the reminder of what a beautiful area the Eifel is and the cycling challenges it presented.