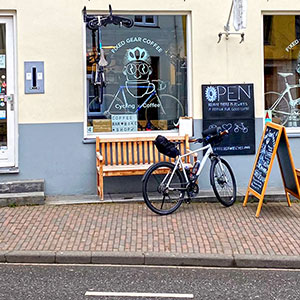 Never before have I posted a review of a cyclist's coffee bar.
This is probably because, until recently, I've never come across a genuine cycling enthusiasts coffee and cake stop.
During a recent visit to Valkenburg, in South Limburg, I discovered Fixed Gear Coffee open for business.
Located near the bottom of the iconic Cauberg climb, this is truly a coffee bar for cycling enthusiasts.
You are invited to take your cycle inside rather than leave it out on the pavement.
Inside I found walls adorned by historic racing cycles and monochrome photographs taken by co-owner Brian Megens.
An interesting range of carefully selected coffees are accompanied by various freshly baked cakes.
My cappuccino was perfect and the hot apple cake sublime.
Thanks to Brian and Shivani for your hospitality, see you next time….