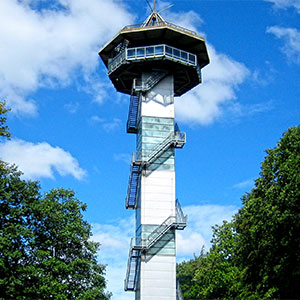 Today my 103 km cycle ride took me to the highest point in the Netherlands, Vaalserberg, which is 322.4 metres (1057.7 feet) above sea level.
Here is Drielandenpunt, where the Netherlands, Belgium and Germany meet.
There are also panoramic views over the German city of Aachen and the nearby Dutch town of Vaals.
I left home just before 0600 and took an indirect route via Maastricht where I rode through a deserted Vrijthof square in the centre of the city.
From here I moved on to Gronsveld, around 60 km into the day's ride.
This is where I started what is generally considered the hardest cycling ascent to Vaalserberg, via Gemmenich in Belgium. It forms part of the route for the Amstel Gold Race, one of Europe's toughest one day cycle races.
Recent trips to Belgium have familiarised me with cycling up hills but nothing really prepared me for the 25 km of hard climbing I encountered on the way to Drielandenpunt.
In places it was like hitting a wall, the steepest climbs of over 15% were difficult even in the lowest of the 27 gears at my disposal but not once did I get off the bike and walk.
I stopped a few times mid-climb to catch my breath but otherwise pedalled every single metre of today's challenging ride; something of a personal achievement, I think.
In total my elevation gain was 1080 metres which is over 3500 feet….somehow it seemed so much more!
What goes up must come down and there were quite a few exciting descents during the final kilometres to my overnight stop near Aachen. I was extremely thankful for the bike's awesome disc brake stopping power.
My Mum, aged 18, visited Drielandenpunt in 1953 and armed with her photograph I tried to get the same shot of myself at precisely the same spot today. Both pictures are in today's photo collection.