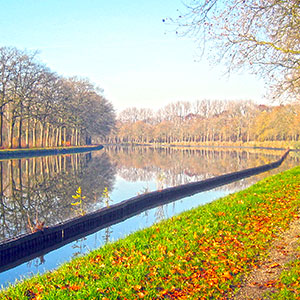 As temperatures were well below zero again here overnight I waited until around 10am before setting off on today's cycle ride, in the vain hope that it would warm up a bit.
Once I left the city, along the canal bank, it was still freezing cold with white frost everywhere and frozen puddles which crunched when I rode over them.
However, the sun is up, the sky is blue and my new thermal hat (Thanks Sanne….!) covered my head, ears and neck, keeping me toasty warm, along with multiple layers of clothing everywhere.
The planned route today would take me to Belgium once more, along canal banks to Lozen and onwards to Overpelt before turning north towards Valkenswaard.
It's another 12 km before I need to turn off the main road, just to the south of the town and I was most impressed by the newly surfaced cycle path, running parallel to the road but separate from it. This really is a cycling 'super highway' and enabled me to make some good progress.
Once away from the main road I followed some of the numbered cycle paths through the forests and minor lanes until I came to the cycle path that runs alongside the A2 motorway almost all the way back home to Weert.
It really was very cold today, but still a thoroughly enjoyable and satisfying cycle ride of 72.9 km, which will count towards my 1000 km target for the Cycling Down Dementia campaign.