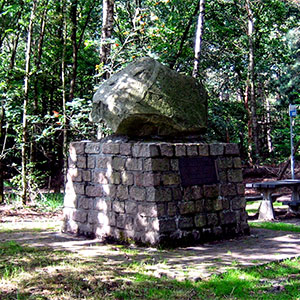 Over three-quarters of today's 50 km cycle ride was on unpaved rural cycle routes and forest tracks, just the way I like it on days when I don't want to cover big distances.
Most of today's ride to the west and north of Weert was familiar to me but riding in the opposite direction to previous rides makes it a completely different experience.
The halfway point of the ride was through the nature reserve De Pan and the woodlands of Boksenberg.
At the northern corner of the forest I came across a large stone monument on the border between the municipalities of Cranendonck and Someren.
This monument is on the site of a former customs post, in use between 1648 and 1994. The original customs post is now displayed in the town square of Someren-Heide, the nearby village.