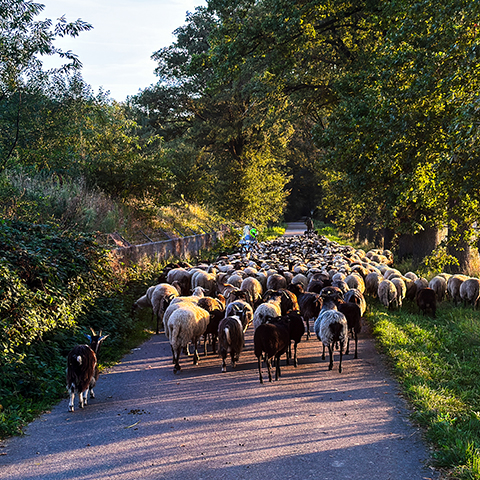 My 97 km cycle ride this morning got off to a fairly slow start.
I was only 7 km into the ride when the route ahead was completely blocked by a large combined herd of goats and sheep.
There were two herdsmen and two sheepdogs busy trying to progress the herd along the narrow country lane.
Turning around wasn't really an option for me as the detour would take me far longer than the 15 minutes or so I patiently followed them.
After about 500 metres my chosen route was clear, we parted company and went on our way.
Of course this just part of country life and I was certainly in no great hurry, unlike the scooter rider who insisted on making her way through the herd towards me, with many of the animals deciding to turn around and follow her instead of obeying the dogs.
Once on my way again I continued on my route north of Heerlen and into Germany.
It was very hot today, over 30c by the time I was home again.
I wish I'd started about an hour earlier.