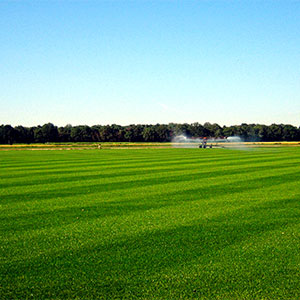 Only 41 km cycled today as I wanted to be home before it got too hot.
Forecast temperatures are due to exceed 27 degrees as they have for the past few days here in Limburg.
Following the picturesque but now disused Noordervaart canal towards Venlo I soon came to the small hamlet of Caluna, about 15 km from home.
As I continued through the characteristically flat countryside it occurred to me that the enormous field on one side of the country lane resembled a very well kept garden lawn.
In fact, that's exactly what it is because the area is known for it's extensive Turf Grass (Sod Grass) farming.
The turf is used for domestic gardens, golf courses and other landscaping projects.
By contrast the similarly sized field on the other side of the lane was recently harvested by large machines that cut about 75 mm of the topsoil, root system and grass in two metre wide strips.
These wide rolls of turf are then divided in to manageable lengths and immediately loaded onto trucks for transportation. The grass is well watered prior to harvest to keep it moist and alive until the turf reaches it's final destination.
Moving on, I continue through Leveroy and head home via the canal bridge at Schoor. Here I find a convoy of about 12 vintage agricultural tractors, one towing an open caravan full of women and children.
At the head of the group was a bright red Porsche-Diesel Super tractor, manufactured by Porsche in Germany from 1956 to 1963. Who knew they made tractors?
They are all parked on the picnic area near the bridge and everyone is busy unloading cool boxes and crates of beer from the caravan. All the makings of a well organised summer picnic in fabulous summer weather!