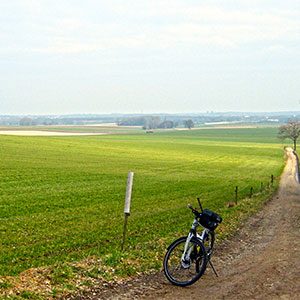 The 35 km cycle ride today seemed quite quick despite several moderate hills with extended sections of gravel tracks and unmade country lanes.
At the end of the ride I was pleasantly surprised to see my average speed today was 18.4 km/h, the second fastest ride this year.
The roads of south Limburg certainly aren't getting any flatter so it seems that I'm simply getting stronger at ascending.
Today's featured image is from the top of a 2.5 km climb known as Kalfshofweg, not far from the hamlet of Overheek.
The view from here was impressive, despite some morning haze, extending towards Heerlen and Germany beyond.
Heading back to Heerlen I found that my intended route was closed due to hedges being trimmed so I took what seemed to be a reasonable alternative through some rather dense woodlands.
By the time I got back on my planned route my bike and shoes were plastered in the stickiest mud I could possibly find on the 1500 metre detour.