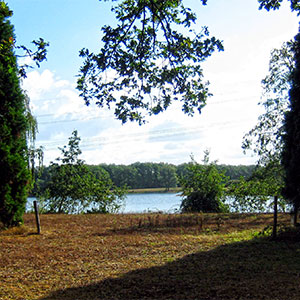 My 59 km cycle ride this morning was a nice wander around the back roads and forest tracks of the Leudal area of Limburg to the east of Weert.
At around the 23 km mark I came across De Brookberg, a newly created nature reserve centred around a large lake.
The area is fenced off at the moment with lots of 'access prohibited' signs but it is possible to cycle or walk around the perimeter.
I managed to take one photograph of the lake from a distance and hopefully I'll be back this way once the facility is opened to the public.
It's always great to cycle through the forests and this morning was no exception but one thing my photographs cannot convey is the ferocious head-wind experienced on the homeward leg of the ride.
I also didn't bother stopping to photograph the sudden squall about 7 km from home, which thoroughly soaked me before the sun appeared again.