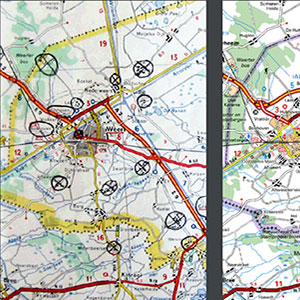 I don't suppose it's possible to get lost when randomly exploring the nearby countryside?
But I'm not one for aimlessly cycling around the highways & byways, I much prefer to have a purpose, a destination.
Also, I always try to return home via different roads to my outward journey, preferably roads never before travelled.
The result of all this, of course, is the need for a degree of advanced planning, usually with the aid of my GPS mapping and a dog-eared Michelin map, which I discover is from 1979!
Between then & now, new roads have appeared, old ones gone, disused canals filled in and urban areas expanded.
Coupled with the fact a scale of 1/200 000 is so small that some minor lanes & tracks (my favourites!) are not even shown, it's little wonder that I've rarely gone out in the last month without ending up at unintended destinations or on roads I didn't even know existed.
Time to get a 1/50 000 cycling map, I think.
Of course I have Google maps on my iPhone, but often I'm out of signal range, so I have to rely on a fairly well developed sense of direction to get from A to B, or more importantly, to get home for tea!