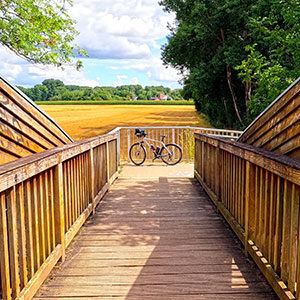 Today's 80.9 km cycle ride was a continuation of my exploration of the river Rur in Germany.
From my starting point in the Dutch village of Koningsbosh I headed north for about 23 km until I reached the river Maas near Roermond.
I paused by the bridge over the Rur where it runs into the Maas.
From here I changed direction and headed east towards Germany.
Crossing the border near Vlodrop I soon joined the gravel cycle track alongside the river Rur, which I followed for a further 15 km.
Today's featured image is of the bridge over the Rur near Oberbruch which I crossed before heading for home.