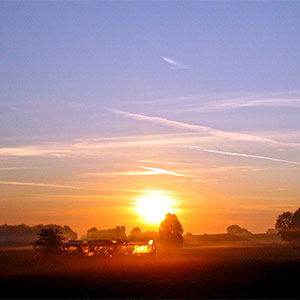 The 100 km cycle ride today, through lovely Belgian countryside, started just after sunrise.
Barely 3 km from home I took today's featured image of the rising sun reflected through derelict greenhouses.
My route was something of a mystery tour because I didn't actually plan it myself, preferring instead to download it from a cycle route website, just for a change.
With the route saved to my iPhone which doubles as a navigation device thanks to the 'Ride With GPS' app, all I had to do was push the pedals and listen to the turn by turn instructions.
I've been using Ride With GPS for about a year now and it really is great to have GPS navigation while I cycle instead of having to stop frequently to consult a map.
Today's route was mainly along designated cycle tracks and minor country lanes, well away from busy roads and built up areas.
One exception was Helchteren, a quiet Belgian town which I passed though without stopping as the route turned back towards Weert.
I left home just after 0700 mainly because we have 30+ degree temperatures forecast for a few days now and I much prefer not to be out riding when it's so warm.
Today's cycle ride was great fun and so enjoyable that I stopped less frequently than usual to take photographs. (There are  still a few!)