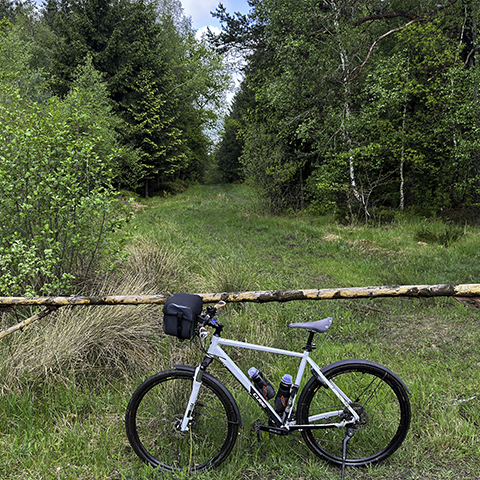 I cycled in three countries today, Germany, Belgium and the Netherlands.
My 109 km route was the hardest and most challenging that I've done in a while, with over 1000 metres of elevation gained.
Much of the ride was along former railway tracks in Germany and Belgium.
Then I turned onto what I thought was a maintained forest cycle track like I've used many times in the past.
Leaving the Vennbahnweg just south of the Belgian town of Raeren, the first 500 metres or so of the forest track was newly laid gravel and I was able to make steady progress.
After this the track deteriorated considerably until it was little more than a waterlogged 'mud-track', completely unrideable and in some places even walking through the mire was a struggle.
Turning back is never an option for me so in order to proceed I pushed the bike, carried the bike and used the bike as a walking aid when my footing was far from certain.
During the following 1500 metres I found myself ankle deep in liquid mud, the bike sinking almost up to the axles.
After about an hour I reached a proper road again and paused for a while to inspect the bike for any damage.
I also washed mud away from the brakes and gears with some of my precious drinking water supply, to ensure they continued to work properly.
Today's featured image is from the end of the 'mud-track' near Raeren.
Moving on from here I soon came alongside the Lac d'Eupen, a reservoir created by the construction of a dam on the river Vesdre in 1938.
I stopped here for a sandwich, not even halfway through my planned route.
There was still 63 km to go!
Continuing steadily I was home by 15:30, completely exhausted.
There was also great satisfaction that I'd safely completed my planned route.