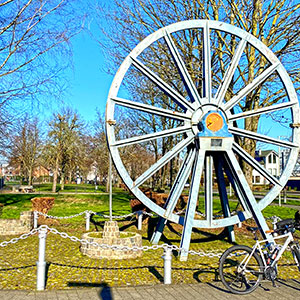 Outside temperatures were hovering around zero degrees this morning when I set off for a nice 57 km cycle ride into nearby Germany.
Once in open countryside the sun was actually quite warm although I was wary of icy patches lurking in the shadows.
The majority of the ride was along narrow lanes through flat  farmland.
Today's featured image is of an old coal mine winding wheel in the German village of Siersdorf.
This whole area of Germany was once a big producer of coal.
All that remains now are various mining artefacts and landscaped mountains of coal mining waste.