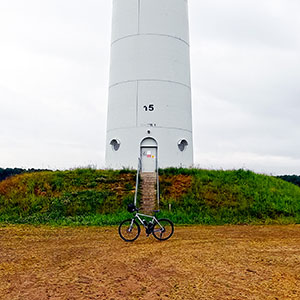 Planned for today was a challenging 100 km cycle ride in Germany, 50% of which was on un-paved off road tracks.
However, things don't always go as planned and after only 6 km into my ride, my legs decided that they really were not in the mood for another 100 km cycle ride.
Bearing in mind I've already cycled over 750 km this month already I agreed with my legs and turned back.
Those of you who know me well will realise that failing to complete a planned cycle ride is an extremely rare occurrence.
The last time was over a year ago when a punctured tyre forced me to abandon a ride early.
Today's featured image is from the base of a wind turbine in Silberpatweg, Germany, just before I turned around.
You just don't realise how big these turbines are until you get up close.
Such impressive engineering.